"Mickey Mouse popped out of my mind onto a drawing pad 20 years ago on a train ride from Manhattan to Hollywood at a time when the business fortunes of my brother Roy and myself were at their lowest ebb and disaster seemed right around the corner." Walt Disney
Have you ever had so many obstacles thrown at you at once that you felt like giving up and calling it quits? I know I have.
Recently I read about Walt Disney's life. I was inspired by his persistence to keep going. He didn't have it easy. There were many hurdles to jump through and tight ropes that he walked in his life. I was amazed that through it all he didn't give up on his dream.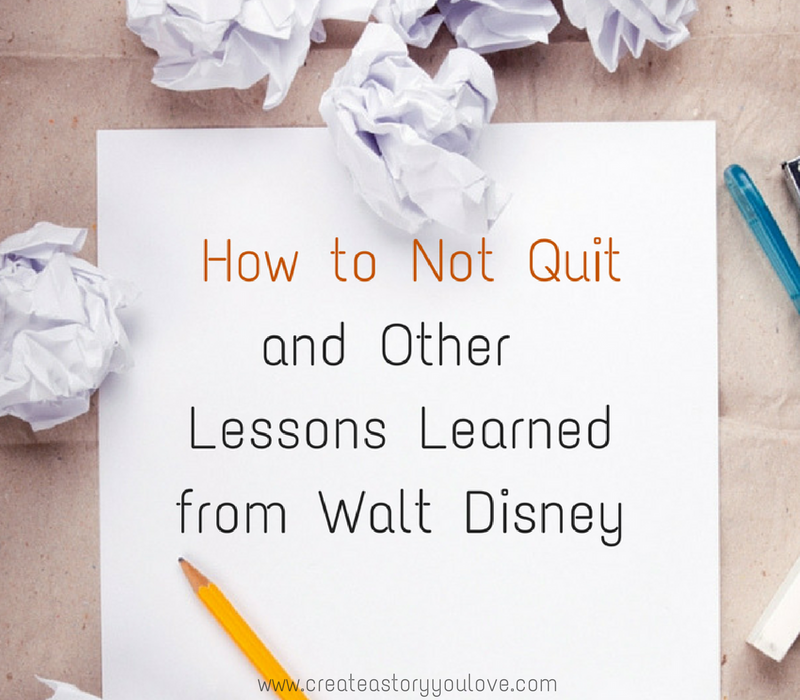 How Walt Disney Learned Persistence…
How did Walt Disney learn to keep at it when the going got tough?
He learned persistence.
Here's a couple of road blocks that stood in his way, as he tried to establish Disney Studios.
At 21 years of age, while working at an ad company he discovered the world of animation and began making Laugh-O-gram ad reels and animation shorts. Soon the Laugh-O-Grams Films went bankrupt and Disney at 21 years old moved to California with $40 in his pocket. In California he hoped to find work as a director, but instead got a contract for his own work and launched Disney Bros. Studios along with his brother Roy.
A year later he was focussing on story development and directing and wasn't working any longer as an animator. However, after several business setbacks Walt and his brother were on the verge of bankruptcy. It was in this stressful time that Walt had the idea for Mickey Mouse. He made a plan to show his seven minute Mickey Mouse Cartoon to several movie executives. His hope was that he could secure a contract and have his short films shown in movie theatres across the US.
One of the movie executives who watched the short film, didn't laugh at the cartoon, instead he laughed at Disney's dream. The movie executive told Walt why his dream would never work out. Kids are afraid of mice and moms don't love them all that much either. No one is going to pay to watch a silly mouse. This will never work. With those words, the movie executive laughed at him and walked out of the theatre.
When you believe in a thing, believe in it all the way, implicitly and unquestionable.Walt Disney Click To Tweet
Walt Disney didn't give up. He kept believing in his dream. He worked hard and soon had his three Mickey Mouse films completed. Those short films established Disney Bros. Studio as the leading animation studio in the country.
After he learned more about animation he took a great risk and pioneered his first feature-length film Snow White and the Seven Dwarfs. Putting together this movie was tough. He had to direct the collaboration of more than 600 employees who drew, inked and painted the drawings. There was over 200 years (total) from employees – many of whom worked nights and weekends without extra pay. He managed to secure over $1 million dollars in funding. It took over three years of animation to complete the movie from start to finish.
Walt Disney persisted and believed that not only would people identify and connect with the animated characters, but that his hard work would pay off. When the movie was released on December 21, 1937, it was an amazing success. By May 1939, the movie Snow White, had become the highest-grossing film in American film, earning $6.7 million dollars.
Many times we give up just before there's about to be a breakthrough. We decide to quit, just at the point when the water is rising high enough that it's about to burst the dam.
Don't give up on your dreams. Not when you're so close to reaping the rewards of your hard work Click To Tweet
Be persistent. If you face financial setbacks or have someone whom you respect laugh at your dream, remember Walt Disney. And keep going.
Remember, not everyone will understand your dream. You need to believe in your dream even when others don't. Having someone tell you that your dream sucks, is painful and for a few seconds you might feel like quitting.
Instead of letting doubt overwhelm you, focus on the people who are waiting for you to make your dream a reality.
Find people who believe in you and your vision and surround yourself with them. That's what Walt Disney did. He had people who worked for awhile without pay because they believed in his dream.
Most importantly, believe in yourself.
Trust the gut feeling and the passion behind the desire you have to create this product, book, course or innovate or invent something new. That's what you were made to do. It is the right thing. It might look impossible, but take another look. Dig deeper. There's small steps you can take that will bring you closer every day to making your dream come true.
Don't quit. Be true to yourself. Create from your heart. Do it in your own authentic voice and let it be about what you passionately believe in.
Have you had obstacles in the path to your dream where you've felt like quitting? I'd love to hear your story in the comments.