With Christmas just around the corner, it's a great time to think about presents for the writer(s) in your life.
I love shopping for presents(and I like receiving them too). So, I decided this year that I would do a little shopping for 'writerly' gift ideas that would make the writer in your life(even if that's you)…  very happy 😉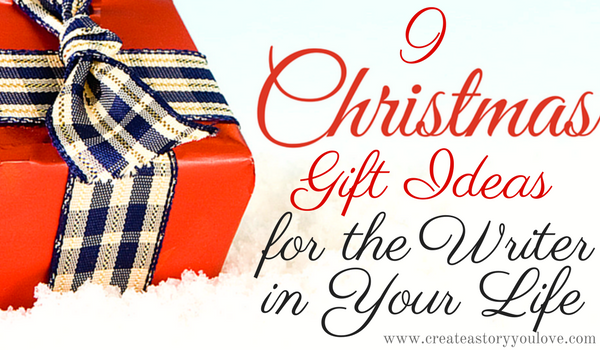 Gift ideas for writers are sorted into 3 categories:
3 Gifts for Writers Under $12
1.Story Time Dice: Fairy Tales – Magically Shimmers
This looks like such a fun game to play whenever you're in the mood for a board game. I can just imagine the crazy stories that rolling the dice would inspire 😉
Price: $10.99
2.'Novelist at Work' Warning Sign
This might be a handy sign to hang on the door of a writer's office 😉
Personally, I think this would a wonderfully funny sign to hang just outside the door where I write!
Price: $8.99
3.
Color the Classics: Anne of Green Gables: A Coloring Book Visit to Prince Edward Island
All writers need ways to fill their creative well, so that they are inspired again to write and finish their story. Coloring is one of the easiest and best ways to do that.
There are many different classic coloring books from which to choose.
I've always adored Anne of Green Gables, so I've added this colouring book to the list.

Price: $9.98
3 Gifts for Writers under $30
1.'If anyone asks I'm Writing'  T-Shirt
Writers always need t-shirts to go with our yoga pants or sweat pants when we're working hard to finish a book.
Price: $14.99
2.'Just One More Chapter' Throw Pillow & Cover
Writers are readers and this gift idea is perfect for both.
Price: $17.99
3.Bronte Sisters Literary Coffee Mug
For those times when writers are writing from home and need inspiration on their coffee cup. This is perfect.
There are other choices of mugs too: Jane Austen(love that one); Sherlock Holmes; Kurt Vonnegut;Lewis Carroll; Mark Twain and Banned Book titles, etc. Have fun browsing!
Price: $15.95
3 Gifts for Writers under $50
1.The Hobbit, Middle Earth Woven Tapestry Throw Blanket
Need something to keep you or your writer friend warm this winter?  This Hobbit-themed blanket will keep writers warm and productive.
It'll inspire all kinds of ideas too as you look at this detailed map of Tolkien's Middle Earth!
Price: $41.70
2.Handmade Leather Journal Set
Write your thoughts and ideas each day, in this amazing handmade leather journal.
The rustic charm and soft leather would be an gorgeous gift.
Price: $31.95
3.Handcrafted Natural Bamboo Wooden Wireless Keyboard and Mouse Combo
Instead of your usual plastic keyboard, try this gorgeous natural bamboo keyboard.
Price: $49.99
I hope that helps you with ideas for the writer in your life!
Have a Merry Christmas, friends!