Almost all writers I've talked to want to increase their productivity and by doing that to increase their income.
The whole idea of being consistently productive is something that I've struggled with a lot. In the past year of so, I decided I needed to learn how to do this better.
I stumbled upon ebooks and audio books by productivity, time management and success expert Brian Tracy. His simple tips and strategies have given me huge aha moments that I've been learning to put into practice for myself.
If you are like me and have struggled to manage your time or increase your productivity, I hope some of these quotes and tips on productivity by Brian Tracy will help you to move forward and faster toward your writing goals!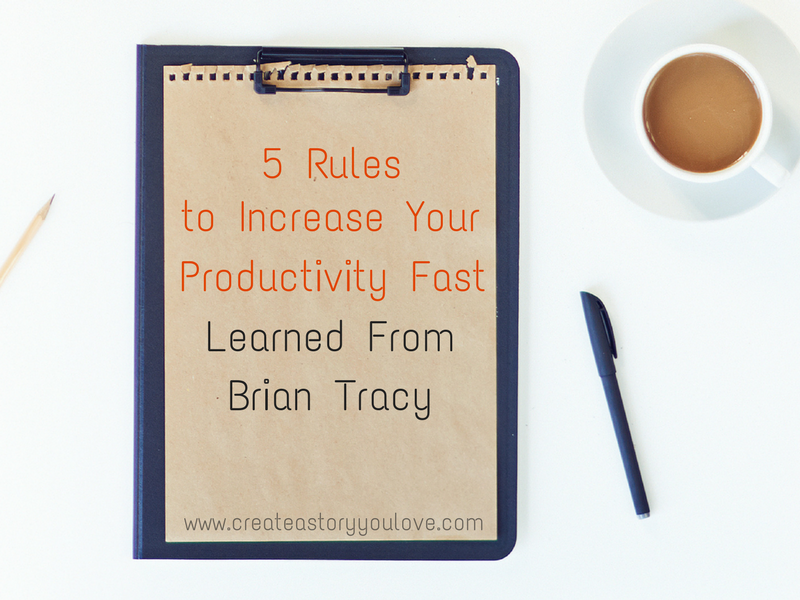 5 Rules to Increase Productivity [Lessons Learned from Brian Tracy]
We all want to feel like we're moving toward our writing dreams in a focussed and effective way, but sometimes we just aren't sure how to do that.
That's exactly where I was when I first started writing and blogging. I'd say it's really only in the past year or so, that I've really begun to put these productivity tips and strategies that I've learned from Brian Tracy into a regular practice.
In talking with many bestselling authors, one of the things they have in common is that they have learned how to be super productive and they are continually learning how to become more success minded. I've been inspired to learn all I can from successful authors that I respect and admire.
I hope you find the following quotes from Brian Tracy, useful and inspiring…
1."Make a decision. Every positive change in your life begins with a clear, unequivocal decision that you are either going to do something or stop doing something. Decisiveness is one of the most important qualities of successful men and women and decisiveness is developed through practice and repetition over and over again until it becomes as natural to you as breathing in and breathing out."
People are inefficient in the use of their time, because they haven't yet decided to be highly productive in everything they do.
Decide today to become an expert and practice these principles over and over again until they become second nature.
"Self-discipline is the ability to make yourself do what you should do, when you should do it whether you feel like it or not." Brian Tracy
What decisions do you need to make to be more successful as a writer? Choose today to get started. This single act alone can change the whole direction of your life.
I've found that I need to connect emotionally with the reason I'm writing and that helps to make the choice to write everyday much simpler. Because when I know what I really, really want, then I am more inspired and motivated to take the action I need to get there!
2."Develop clear goals and objectives. Fully 80% of your success comes about as the result of your being absolutely clear about what it is you are trying to accomplish. Unfortunately, probably 80% or more of failure and frustration comes to people who are vague or fuzzy about what it is they want and how to achieve it."
It's important to decide what it is you really want. Once you have great clarity on what your biggest goals and dreams are, next you determine the price you're going to have to pay to get it and then resolve to pay that price.
In most cases, in order to move toward our goals we often have to sacrifice up front. We have to give up time we'd rather use for watching our favourite TV shows or reading our favourite books. We even have to give up some of the time we'd rather spend with family or friends.
This isn't easy. There's been many times I've missed out on some favourite shows with the fam, because I've needed to get more writing done.
And yet, I know writing these books and eventually self-publishing more books on Amazon and other digital retailers, will in the end give me the ability to earn more income and still have the time I want to spend with my family.
A few months ago I created an infographic with a formula to accelerate your writing productivity.   I've learned that when we use a goal setting formula everyday, it brings us much faster toward our writing goals.
3."Plan everyday in advance. Daily planning is absolutely essential for you to double your productivity. You should practice the six 'P' formula for high achievement. This formula says, 'Prior, Proper, Planning, Prevents, Poor, Performance.' All successful men and women take a good deal of time to plan their activities in advance. Remember the 10/90 rule which says that the first 10% of time that you spend planning your activities before you begin, will save you as much as 90% of the time necessary to perform those activities once you start work."
I've discovered that something amazing happens when you write out the plans you have in your head and transfer them to paper before you begin any project.
Writing really does sharpen your thinking, stimulates your creativity and helps you to focus you much better than if you were just trying to work from what you have in your head.
You can start by making a Master list of all you want to get done in the next 5 or even the next 10 years. Then this is the list you keep referring back to as the central list to guide you in your next projects. And whenever you think of something new you want to do, write it down on your Master List.
Next, at the beginning of every month, make a list of everything you'll need to do for that month. Then break your monthly list down into a weekly list and write down exactly when you'll start and finish the tasks you've decided on for that month.
Then break that down further, and make a daily list of what you have to do each day. It's helpful to make this list the night before. I usually make my list on Sunday evenings for the week. And I keep that notepad right beside my computer where I see it everyday.
The rule is: always work from a list. Even when something new comes in your day, write it down. Then when you cross off items one by one, it gives you more energy and tells you where you're making progress and what you have to do the next day. Time management experts say that working from a list increases your productivity by 25%.
Once you decide on your number one task, anything else you do other than that is a waste of time.
Click To Tweet
4."Once you have decided on your number one task, anything else that you do other than that is a relative waste of time."
Distraction is something each of us face as writers. There's so many things like interruptions, email, social media, that it really can stop us from really getting done what we need to get done.
If you minimize or do your best to get rid of any distractions, that will make you so much more productive.
Sometimes when you have so many things on your list that you want to get done, it's tricky to decide which one to work on. Here's where prior planning comes into play(refer to #3).
Before you start on any project, ask yourself "What is the most valuable use of my time right now?"
Once you've decided on your most important task, then anything else that comes your way is not important to you right at that moment(unless there is an emergency). If something comes your way while you are working on that most important task, kindle defer it and work on it later after you've finished your most important project.
5."Your most important tasks and priorities are those that can have the most serious consequences, positive or negative, on your life or work. Focus on these above all."
When you've made a decision on what your priorities and important tasks are, these have long-term rewards or consequences. When you set out in the direction of being committed to your most important project everyday, it can change your life in amazing ways for the better. It can have a huge impact.
So, it becomes important to know what your end goal is. It's important to have a vision of your end goal, because that will motivate and energize you to do the work you need to accomplish your goal.
I've been learning that the greater the clarity and positive impact your goal has on your life, the faster you will get yourself in motion towards that end goal and it will be less likely that you will procrastinate when you really understand that completing that One Important Task will massively change your life for the better.
I hope after reading these quotes from Brian Tracy, that are inspired to go after your most important goal. I know I am inspired to finish the new nonfiction book I'm writing – unofficially titled – Finish Your Book.
If you are a writer who struggles with resistance and/or distractions to Finish Writing your book, would you take a minute to fill out this short(3 question) survey?
Thank you so much 😉
What productivity tips have you tried that you would recommend to other writers?  Please do share in the comments below, we can learn from each other 😉