Most readers, have certain expectations when it comes to reading popular genres. It's these expectations that keep readers coming back to read their favorite genre over and over again.
For a writer to understand these expectations, we need to uncover the popular tropes in that genre.
Here's what dictionary.com had to say about tropes:
noun: Any literary, or rhetorical device, as metaphor, metonymy, synecdoche, and irony, that consists in the use of words in other than their literal sense: the principle of organization according to which matter moves to form an object during the various stages of its existence. Also, indicating a turning towards, development in the direction of, or affinity to.
So, pretty much a trope is a way of developing a story in a way that turns the story towards what readers love to read about in that genre.
Since I've been wanting to dig deeper into tropes in popular genres, I thought today would be a good day to start.
I thought I'd start with looking at Historical Romance, since that's what I'm most familiar with and then later on, I'll blog about tropes in other popular genres.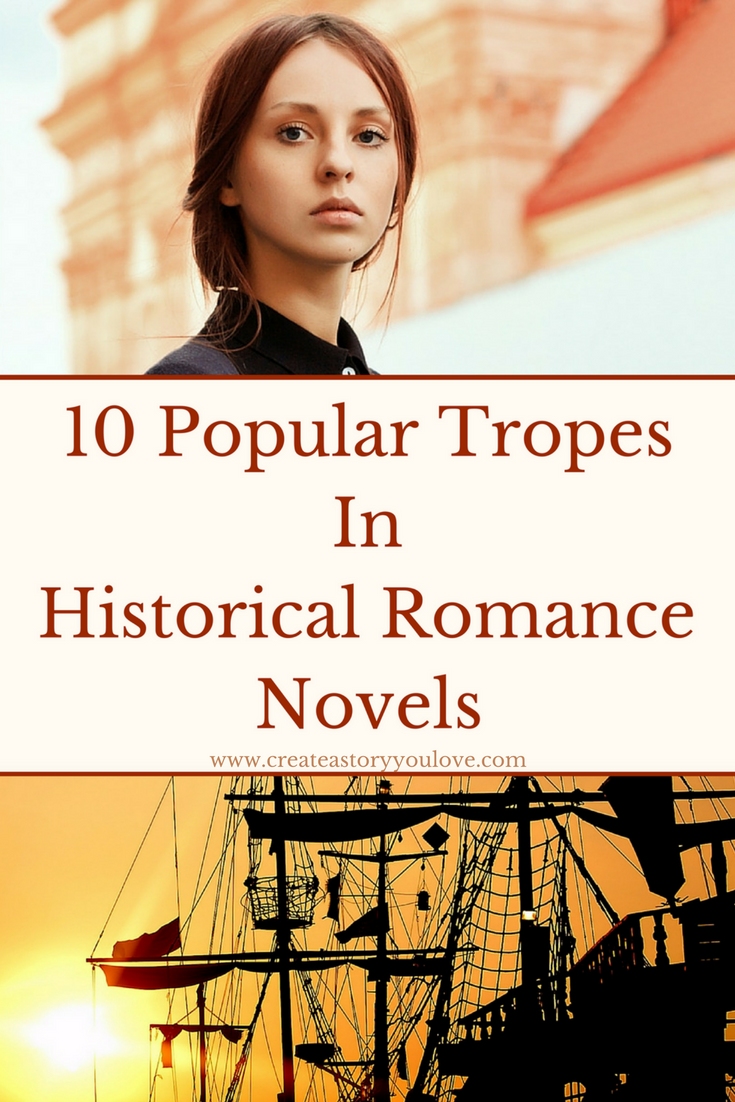 10 Popular Tropes in Historical Romance Novels
So what is it about how historical romance novels are written that draws readers of this genre like flies to honey?
Here's 10 tropes I've noticed in reading many books in this genre:
1. Marriage of Convenience. This is the first one that came to mind, because this is very similar to what I'm writing in my Western Historical Romance right now. This trope is when two people decide to get married as a business deal. They get married, they live together, but the female decides that there will be no sex, making the husband realize that this marriage of convenience… is quite inconvenient for him. Which in turn, makes the husband desperate for attention from his new wife… and does everything to get his wife's attention. Tension and desire build until the female breaks her vow of chastity and the original marriage of convenience becomes a marriage… with benefits. Of course, this brings in complications and a few dark and desperate moments that foreshadow a threat to their happiness, but in the end, love conquers all.
2. Beauty and the Beast type of trope. This is another powerful theme for romance readers. We love to read(or watch movies) about a wounded man(who has scars on the inside or outside), shunned by Society, who has lost all faith in himself, who finally finds his way back into the world through the love of a good woman. This also works if you switch the characters around and make the hero the beauty 😉
3. Scandal and the Forbidden. Readers love to read about a scandal and how a heroine breaks society's rules and does the forbidden. For example, the clothes they must not wear or which man she must not flirt with or kiss. Of course, the romantic part is when two people each decide that the other person is worth breaking all the rules for and choose to love each other no matter what…
4. Romances about Dukes. There's just something intriguing about a Duke in historical romance. He's a powerful and often rich man at the top of the aristocracy – so when a Duke falls to his knees, deeply in love, it's very romantic. Many popular Victorian or Regency romances include Viscount's, Earls and Dukes.
5. Separated lovers reunite. This trope goes a little like this: man and woman fall in love, their loves falls apart and the couple is separated. Something dramatic forces them back together again and they start to remember all the reasons they broke up in the first place. Except this time, they stick together and are finally rewarded with the happy marriage they wanted – but didn't get – the first time round.
6. A Makeover Story. Sometimes a man or woman needs a little help to reveal his or her true self. It could be clothing, a new hairstyle, education, but something changes which gives the character more confidence and belief in themselves. In a female character, she believes in herself and sees herself as a desirable woman, and makes the hero take notice and ultimately in the end, he realizes that this woman is who I love. This also is great, when it's the man who goes through the transformation.
7. A Compromising Situation. There are many historical romances that use this trope ~ and it works. Usually it's a woman's reputation, or her life, that can be irrevocably ruined if she's caught alone with a man. Sometimes it's accidental, and other times in some way, the situation is manipulated. In the end this story, results in two people who don't know each other very well, but are attracted to each other, being forced to marry each other – before they've fallen in love.
8. The Governess. This is about a governess who works for a man who has children under his care, and she cares for his child(children). He is attracted to her, but knows there are hundreds of reasons why he can't have her. Yet, as they learn more about each other, they are drawn together by their mutual love and care for the children. Because of their closeness, romance develops. And sometimes this causes a bit of a scandal 😉
9. A Bad Boy(Rakes). This trope is about a man who is dangerous for the female character to know, the man her friends tell her will break her heart, but she's still drawn to him. When the right woman comes along who is intelligent, challenges him and whom he's attracted to, he falls for her.
10. The boss and under-appreciated female worker. This is a story about an overworked female character who works for a boss who doesn't appreciate her and isn't aware of how hard she works for him. So she decides to quit. The boss, then finds that his life falls apart without his female worker and is desperate to get her back. He plans, tempts, and falls in love with her and then near the end – in his greatest show of appreciation – he grovels, showing her that at last he appreciates her for the beautiful and intelligent woman she is.
I hope you find that list of tropes useful to you – especially if you write historical romance.
I'm curious, what's your favorite trope to read or write? Please share your ideas in the comments below 🙂