Podcast: Play in new window | Download
Subscribe: Android | Email | RSS | More
Writers have so many things to do now on top of writing their book. Plus in today's culture with social media and email there are more distractions than ever before. How do we level up our productivity as High Performance Writers and stay inspired and creative at the same time?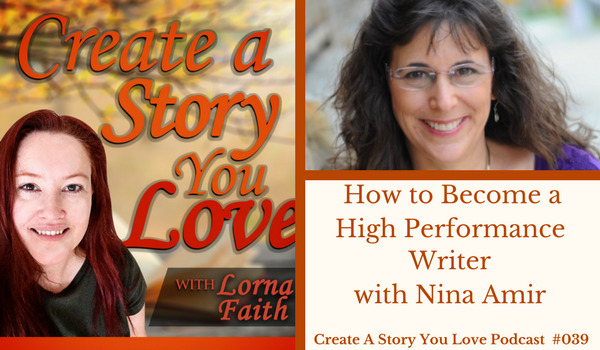 This is what Amazon bestselling author and certified High Performance writing coach Nina Amir talks about in today's show. In the introduction, I share how important it is as writers to find
inspiration daily – like blogposts, podcasts, books, audio books, writing groups, etc. I love to listen to podcasts, read blogposts and plus read many helpful books on writing, self-publishing and book marketing.
I mention three books that have inspired me lately like: 1)James Scott Bell's newest book, Marketing for Writers Who Hate Marketing – lots of practical tips for writers here. 2) I've also been re-reading Ryan Holliday's book, The Obstacle is the Way: The Timeless Art of Turning Trials into Triumph – lots of success mindset help in this gem. 3)And I've also been working my way through Nina Amir's newest book, Creative Visualization for Writers: An interactive Guide for Bringing Your Book Ideas and Your Writing Career to Life.  The practical exercises and step-by-step guide has helped give me clarity on my current books as well as to see the big picture goal in my author business 😉
Interview Summary…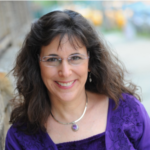 Nina Amir helps creative people combine their passion and purpose so they move from idea toinspired action and Achieve More Inspired Results. She is a 11-time Amazon bestselling author, award winning blogger and also is one of only 300 elite Certified High Performance Coaches in the world.
She is passionate about helping writers to achieve their potential to fulfill their purpose so they can make positive and meaningful impact in the world w
ith their words. For more details on her next High Performance Writers Group Coaching click here. 
Nina's newest release is Creative Visualization for Writers: An interactive Guide for
Bringing Your Book Ideas and Your Writing Career to Life. 
She shares her story of wanting to write from a young age. Well meaning people in her life at that time, told her only really good writers can make a living writing novels. So Nina got a degree in Magazine Journalism.
Eventually, when someone asked her to edit a book for them, she did and that book sold 300,000 copies. Another self-published book she helped edit, sold over 200,000 copies. So she started to work with other authors on their books.
Nina was inspired to write her own book and sent a proposal to one of the big agents in one of the New York publishing houses. They called her and told her they loved the book, but that she needed a bigg
er platform.
This was when Nina decided to blog and build a platform on blogging, writing nonfiction, spirituality and personal development.

After about 8 years of blogging steadily, she thought I haven't sold any books yet, maybe I should just quit. At this point she had already written some self-published books. It was here she came to a turning point and told herself: No. I've come too far. I refuse to quit!  
Four years later she held her first traditionally published book in her hands.
When I refused to quit, my mindset shifted. I told myself, that no matter what it takes, I will fulfill my purpose and my potential. As writers, when you start seeing what you're called to do like that, you feel connected to it. ~ Nina Amir
On Roadblocks Writers face…
These are mostly self-esteem issues. As writers we think: I'm going to be judged; I think I can't do this; I'm not a good enough writer.
All that's stopping writers is mindset issues. As a writer – no matter where you're at on your writing journey – you have to stop blaming outside circumstances. These are just excuses that stop us from doing what we really want to do.
What goes along with mindset issues, is the need to change our habits. We have to level up and master our Psychology, Physiology, Productivity, Persuasion, Purpose and Presence.
Specific things writers can do to help change their habits to be more productive:
Don't get stuck into email and social media first thing in the morning. Your email is a convenient organizing system for other people's agendas. Studies show that some of the most productive people do not check their email or social media until later in the day.
Come to your desk with energy. Do some deep breathing, run on the stairs or go for a walk. Don't work more than 50 minutes at a time. Drink more water.
Block your creative time. First thing in the morning work on your stuff. Remember that writing is a habit. Develop this habit of writing on a consistent basis. Decide who you want to be as a writer and as a person and ask yourself everyday if you're living into that.
Sleep 7 to 8  hours a nigh to function at your best. Drink water and breathe because your brain and body need it.
Challenge yourself regularly. For example, if you've ever joined NaNoWriMo, you know you are challenged to write 50,000 in the month of November. Give yourself regular challenges similar to that.
Nina shares the pillars on how you can write more and live everyday with more energy and passion.
6 Pillars to Become a High Performance Writer
1.Psychology. Your mind is this powerful took, but you have to know how to train your mind to the thoughts and beliefs that serve you the best. As writers we need to get past these limiting beliefs and negative thoughts. You develop this as you develop mastery over your mind.
2.Physiology. You need endurance and stamina to do what you want to do in life. It's this ability to bring energy to everything you do: exercise, eat right and make sleep a priority. Then you'll show up with more energy and stamina.
3.Productivity. We all want to be more productive, to make more money and get more done. You can do that when you've actually mastered your mind because you have more ability to focus your mind on what you need to do. We only have 24 hours in a day. You can change your schedule to your writing needs and manage your attention so you can be more focussed and present in that time. Your ability to serve your readers comes from the ability to be productive.
4.Persuasion. This is not the used salesperson approach. Persuasion is influence and persuasion in a positive way. To learn to develop that know, like and trust factor that is so important. The people that resonate with your words, you are an influencer in their life. You need a persuasive ability and to learn how to master influence.
5.Purpose. This goes back to your BIG Why. High Performers revolve all their productivity around their purpose. If you can stay on purpose, you'll achieve your potential as well as fulfill your purpose.  Ask yourself why you feel compelled to write more books? This is for both writers of nonfiction and fiction books. Stories have a benefit to the readers.
6.Presence. Being present in the moment. Be consciously aware in the moment. It takes focus to get the results you really want. If you're focussed in the past of the future, how are you going to get done what needs to get done right now?
Plan ahead for challenges that will come up in your life, to take you off your goals you've set in your
writing. Ask yourself, what typically hangs me up? What can I do to plan for that if it happens again?
Being part of an accountability group of writers – like a coaching group – is super helpful for writers. You're accountable for what you did that week as well if you invest not only time, but money and have more skin in the game, you're more likely to do it.
Some of the most successful writers will tell you they invest in themselves in many different ways so they can level up.
Writers have to learn to think of themselves as Author Entrepreneurs who write books that are planned well. If you haven't gone through a planning process, you end up with a book that doesn't sell well. And if you want to reach readers and affect their lives, you need to plan your books.
Sometimes all it takes is a tiny shift in your mindset and habits to become more productive as a writer. Become a High Performer so you can succeed in writing as well as in life 😉
Links mentioned in this interview:
www.NinaAmir.com/high-performance-writer-group-coaching/
www.nonfictionwritersuniversity.com
If you want to connect with Nina, you can also find her on Facebook and Twitter.