Podcast: Play in new window | Download
Subscribe: Android | Email | RSS | More
If you write fiction, then details like writing fast and creating memorable characters are very helpful skills to learn.
Today I talk to Science Fiction and Fantasy author, Michael La Ronn about how writers can be more productive and he also shares what he's learned on creating compelling and memorable characters.
You can connect with Michael on his author website, his website for writers or you can chat with him on Facebook or Twitter.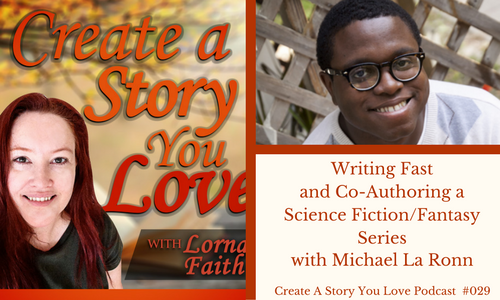 In the intro, I mention the ups and downs of writing your book during NaNoWriMo. I talk about how I was amazed that the first day of NaNoWriMo I wrote 2, 551 words 😉 Also, as per usual I share resources I've found helpful: AuthorLevelUp YouTube channel, the new book The One With All The Writing Advice by Sean Platt and Johnny B. Truant, and great tips by bestselling author Adam Houge in his free video series & course, thefanbaseformula.com.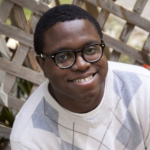 Michael La Ronn is the bestselling author of over 20 Science Fiction/Fantasy novels which he began writing in 2014. He also gives tips and guides author to increase their productivity and learn how to become profitable author entrepreneurs at his website and YouTube channel, www.authorlevelup.com.
Here's the highlights of the Interview:
Michael shares how he got started telling stories and how he got serious about writing the stories he loved after a near death experience in 2012. He published his first book in 2014 when he decided to be an indie author.
He was encouraged to write his first book by a friend. Michael encourages new writers to try new things. You will learn more about yourself as you write a book. It will teach you an important lesson about showing up everyday.
How to write things that will put you out of your comfort zone and to expand and grow as an author. One of the things in the past year that grew Michael as a writer was co-authoring the Modern Necromancy Fantasy series with Justin Sloan. Book #1 Death Marked is available now.
How to pick up new skills as you co-author a book with another writer.
Michael shares about his novel about a Dragon Lord and how he had to dig deep into this evil characters wounds and flaws and how that affected his writing.
How to use the 5 senses to make your characters even more real to readers. Also, how to you filter the history and the opinions of that character and how does he/she feel about other characters around him/her. Michael highly recommends the "Depth course" and "Character Development course" by Dean Wesley Smith.
How to be a productive writer and write in your everyday 'in-between moments' at the edges of your day. Always do something that moves your career forward in some way.
Tips on how to fill your creative well on cue and regularly so you can keep writing!
On being willing to trust your gut and your instinct to write the story/series of your heart, instead of holding back and not writing it at all.
Michael also shares tips on how authors can use YouTube to connect better with readers. It's helpful for readers to get to know your personality and then as you connect, readers will begin reading your books.
YouTube is one of the best platforms to learn about your readers. You'll discover: who watched your videos; they're age range; what country they're from; what keywords they used, etc.  This helps you craft better content – so you create videos that people are interested in.
Some tools to help writers get started with their YouTube channel: Smartphone for recording your videos; Screenflow to edit your video(or windows moviemaker); Tripod adapted for Smartphones; lavalier microphone that attaches to your shirt collar & plugs into your smartphone.  And that's all you need to get started.
What inspires you to try new things as an author? I'd love to hear your thoughts in the comments below 😉