Podcast: Play in new window | Download
Subscribe: Android | Email | RSS | More
In today's show, Pamela Hodges shares how writers and artists can give themselves permission to passionately create the art they love. I was inspired by this chat with Pamela, mostly because it has taken me a long time and writing a few books to begin to believe in myself and to give myself permission to write the stories I love.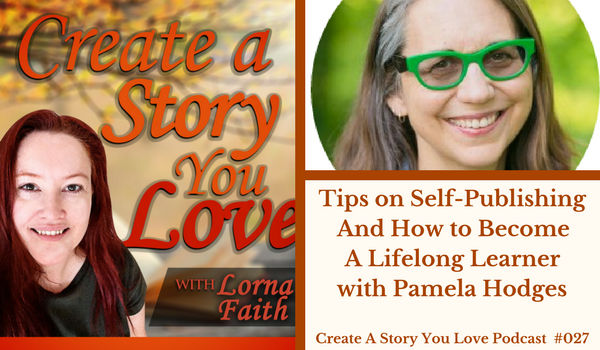 In the intro, I share about the book I'm reading now by Alan Watt called, The 90 Day Novel. I've been going through the each week's lessons and the exercises have helped me to write with more freedom and to ask the right questions to discover more of my characters & setting.
A copywriting book I've been reading and loving is Love-Based Copywriting by Michele PW. Honestly it was the title that drew me to this book. She shares how to attract people that resonate with what you have to say – to your website, blog, emails and everywhere else. Great book. Also, I chat about  TribeWriters.  which is a course that was the #1 influence for me to start blogging and to write books.
Interview Summary:
Pamela Hodges is a blogger, author and artist who encourages others to embrace their creativity. She inspires by sharing stories about art, creativity and everyday life with cat barf and seven litter boxes.  You can see more of
her blogposts at ipaintiwrite.com or visit her cat Harper's blog at thecatwhowrites.com.
She talks about how she illustrated, formatted and designed the new book that her cat Pooh Hodges wrote called, How to Be A Cat.  This book is for guys who are tired of going to work everyday and can quit shaving and give away their car… and become a cat 😉
Pamela talks about how she was first inspired to write and create her art when she first joined TribeWriter's course. Later, Seth Godin's book It's Your Turn, among other things, encouraged her to try to go to school to learn Adobe Photoshop, Adobe Illustrator and Adobe InDesign.
When she first started the class, she didn't even know how to turn on her computer. But she really wanted to learn how to do this, so she asked a lot of questions and stuck with it.
Trying to be perfect can stop you from creating. Don't let that happen to you. Click To Tweet
Color the Cats: Forty Real Cats from Around the World and Their Stories.
Pamela encourages anyone who wants to begin learning something new that they're passionate about to…
Treat it like a job – even if you have towork many hours at it
Set a deadline of when you want to be done – it makes a big difference
believe passionately in what you're doing – in what you're creating
If as a writer you are doubting your ability, or you are hearing your inner c
ritic tell you "you're no good a that," just try it anyway. Maybe it takes you a little longer to finish your project than what it would take others, but that's okay. It only matters that you get there. That you finish it.
Pamela encourages all writers to read The War of Art by Steven Pressfield, to learn how to get past resistance and make space for their creativity.
How do people make room in their busy lives for lifelong learning – to create what their passionate about?
The only way to make room for something is that you have to make a choice.
Is it more important that you find out how the TV series ends, or is it more important to finish writing that book? Or is it more important to do something with your friends every weekend, or do you need to choose some weekends to stay and finish that project you started, but didn't finish?
If you want something you need to decide what your priorities are.
Pamela encourages creatives that are struggling with self-doubt, to embrace what you love. You are a writer or an artist when you say you are.
Our value as creative people doesn't come from outside validation. Rather, it comes from an internal belief that you are who you say you are. Don't be afraid to make mistakes. Trying to be perfect can stop you from creating. Don't let that happen to you.
Treat yourself how you want to be treated. The best friend you can have is yourself. Be kind to yourself. Pamela encourages everyone who has self-doubt to take a big tube of red lipstick and write on your bathroom mirror: Smile sweetheart, you're great. OR  Hey you've got this, I believe in you.
New projects Pamela is creating:  A coloring book called, 31 Days to Joy: Finding Joy in Everyday Life. She will also be writing Pooh Hodges memoir, in a writing class by Marion Roach Smith.  If you want to know more about what Pamela is up to, check out her blog or connect with her on Facebook or Twitter.
Have you given yourself permission and made room in your life to create the art that you love? I'd love to hear your thoughts on that in the comments below 🙂