Podcast: Play in new window | Download
Subscribe: Android | Email | RSS | More
Have you wanted to learn about how to tell great stories with Animation and Gaming? In this interview, Stephan Bugaj, shares what he learned from his 12 years working at Pixar Studios as well as working at Tell Tale Games. He shares many tips on how writers who are interested in writing for animation or video games, can get started in those industries.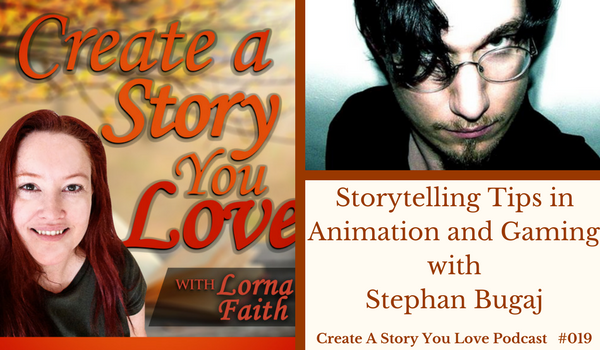 In the intro, I mention 3 resources that are helpful for writers: 1) New Rural and Urban Setting Thesaurus by Becca Puglisi and Angela Ackerman. 2) The StorySeller's Bootcamp put on by the SPP guys at SterlingandStone.net. 3)The Self-Publishing Success Summit, which has 40+ bestselling authors giving details of how they write, self-publish and create funnels through their books.

Stephan Bugaj, is a storyteller across multiple transmedia platforms – doing games, VR, Films, Television, Robotics and audio storytelling. Most recently he worked at Telltale Games as Creative Development Director, helping to develop storytelling for The Walking Dead season two, The Wolf Among Us, Game of Thrones, and more.
Before that he co-developed and co-wrote feature projects in-development at Pixar Animation Studios, including animations like Brave and The Incredibles.
Stephan is the co-writer of Creative Writing Career 2 along with Justin Sloan. He is a contributing author to a number of artificial intelligence and cognitive science papers and books and is co-author with Ben Goertzel, of the book, The Path to Posthumanity.
Highlights of the Interview:
How to uncover the story contributions of every element that goes onto the screen and onto the soundtrack across many multi-media disciplines.
Stephan discovered and was inspired by the fact that he could make things from young on and later was influenced by info com games, table top gaming and pulp Sci Fi novels.
The flow of an animation feature film and how the pipeline of production works.
How the writer's job in feature film animation starts with a written treatment so that the structure is there – which often includes a screenplay as well. Then the Head of story will be doing mood boards and story beat boards while that's going on and might even draw some sequences.
It's not until the script is approved to go into reels that you get all of your board artists assigned on the team to then go draw the entire film and have an editor assigned to cut it into a reel.
T.V. animations sometimes have scripts upfront before they get to storyboarding.
Storytelling is collaborative in T.V. and Feature Film animations.
Tips on how a spec screenwriter and novelists can be writers for animated films, you need experience – if you've shown talent for the craft and some degree of whimsy and humour in their work.
For writers who really want to write for animation, right now there's a comeback of smaller animation companies who are willing to look at specs – anyone who can contribute to their animation.
Writing for video games is unique. Players are creating a story in their head all the time as they play and the characters or world building opportunities you give them, has an effect on the gamer.
There are different Schools of Thought when it comes storytelling in video games. When you create a game you're trying to get the players to go through an adventure story -and how they get through the obstacle. Some of the best games still bring in interesting bad guys.
Games aren't driven by writers, but by programmers and game designers. Then you have the Creative Director who brings it all together. Usually a game starts with a concept and then a team is put together that may include a writer. Interesting story with great game play is something like BioShock.
Interplay between the game and the story. Designer and writer are paired up in most meetings to craft that as a team for pacing and flow and how to tell the best story.
Stephan mentions that one of his fiction books will be released on a new mobile platform called

getbound.io

– which is releasing later this summer. Serialized short fiction with some illustration that goes along with the prose. And the prose will be read in audiobook style. Broken down into short chunks like the old pulp fiction. You can read, listen and look on the bus to work, etc.
Connect with Stephan to hear about the latest news by going to his website, www.bugaj.com and by connecting with him on Twitter and Facebook.