Podcast: Play in new window | Download
Subscribe: Android | Email | RSS | More
Subscribe: iTunes
As writers, we captivate our readers through the word pictures we paint in our descriptions and dialogue. In today's interview with Becca Puglisi, she gives writers tips on how they can use the Emotion Thesaurus and Setting Thesaurus to draw readers deeper into their story.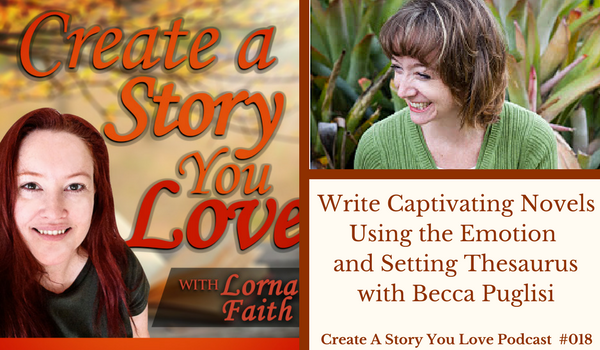 In the intro, I talk about 3 helpful opportunities to help you learn how to become a successful author.
Free online Indie Author Fringe Online Conference. Learn how to become a successful author, from some of the bestselling writers in self-publishing. Get behind the scenes as they share the details of how they wrote, published and marketing their books.  Click here to grab a Free spot on the Indie Author Fringe Online Conference.(Just click on the RED Register Here button and add your email address). This kicks off on May 18, 2017, London time.
Free eBook along with a Storyteller's Roadmap mini-course. I'm wanting to do what I can to help struggling first-time writers get past self-doubt and other roadblocks, so they can write, self-publish and sell books to readers who are hungry to read them. So, I'm offering my nonfiction book Write and Publish Your First Book for Free along with a free mini-course to help you learn the steps to take to write, self-publish and market your book. Click here for your Free ebook and free Storyteller's Roadmap mini-course.
Onestopforwriters.com is a membership site where you can find all the Thesaurus' that Becca and Angela have written – all in one place. It's a great resource 😉
Interview Summary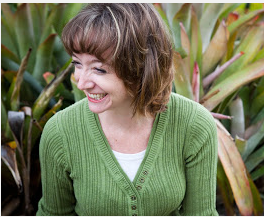 Becca Puglisi is a nonfiction co-author – along with Angela Ackerman- of the best selling The Emotion Thesaurus, Emotional Amplifiers(Free) and also the Negative and Positive Trait Thesaurus. Their newest books are The Urban Setting Thesaurus and The Rural Setting Thesaurus  are due to release on June 13th! At their blog, writershelpingwriters.com and their newest website onestopforwriters.com, you can find all sorts of help for writing your books in a more compelling way for readers.
In this today's interview we talk about the emotion thesaurus and how these thesaurus's can help writers to tell better stories.
Here are the highlights:
Angela and Becca started their website when it wasn't convenient for them to do it – while having younger children. They loved each other's work and wanted to start a website together.
The emotion thesaurus started with them writing blogposts about it and people were interested. Soon they found PDF's of their Emotion Thesaurus around the Internet, so they thought they should write this book.
*Emotional Amplifiers book is helpful to use, when you want to amp up the emotions for your characters. For example, if your characters are already feeling sad and you add in exhaustion or stress…  that will make the characters feelings stronger and more volatile. You use the Emotional Amplifiers when you want to elevate the tension of the character.
*Becca talks about how using The Emotion Thesaurus helps writers to show instead of telling. Telling often takes less work and less time, but when you show by writing vivid descriptions or emotions, the reader is drawn in and feels like they are living the life of the main character.
*Angela and Becca have talked a lot about emotional wounds on their blog, and even though it's hard to write about and painful to dredge up painful memories, it's these traumatic or negative events in a character's past that often causes a lie to surface in their psyche.  
For example: A guy who had a family member shot in a convenience store, might end up believing that he can't protect the ones he loves. He believes that lie. As a result different character tr
aits form as a means of protecting himself, so he won't experience those emotions again. Example: He might become superficial to keep from having to get to know people. He might start being extra observant and cautious about his surroundings.
When wounds happens, new character traits form – but the negative traits hold the character back from being the person they were meant to be. The Positive Trait Thesaurus and The Negative Trait Thesaurus are very useful books, to help writers, tell vividly about a characters wounds and character traits.
*Becca shares helpful tips on writing backstory. It's good to know each of your character's backstory – what happened to them – but the backstory is more for the author than it is for the reader. Knowing the backstory is where layering and depth comes into play for writers. Becca offers a helpful free tool on their website: Reverse Backstory Tool, to help paint a vivid picture of who your character is.
*The Setting Thesaurus – which releases June 13th – has over 200 settings to help authors write compelling descriptions.  Setting is a great vehicle for conflict. Since every scene needs conflict – some obstacle that stops the character from getting what they want – you can use setting to help with that.
*Normally we see settings as background, but it can be a great way to: reinforce emotion;
create mood; create tension and conflict; show the passage of time; foreshadow; hint at backstory, etc. You can do all those things while you're showing the reader what the scene looks like.
*Becca talks about how she experienced fear when she first started writing. She struggled with panic disorder. As she talked with her therapist, she learned that most of the time when you have fears, most of the time they are unfounded and overblown. Most fears are based on a lie that isn't true.
Example: I'll never be good enough to be published; I can't write this genre or this story or this character; etc.
Tips for writers who are struggling with fear:
Identify what it is you're afraid of: this scene; writing this book; putting your name on a book cover; that you're not a good enough writer, etc.
Replace the lie with what is true. Maybe you're writing skills aren't where you want them to be yet, but you can write. You just need to keep practicing and learning, etc.
Then put a plan in place. A goal without a plan is just a dream. If you're afraid of writing in a certain genre – but would really like to – put a plan in place to read in that genre – 1 book a week; analyze that book – looking for tropes and break down story structure; Decide on a goal of writing a certain number of words everyday until you have a book finished in that genre.
Many fears come from lack of information or lack of experience. Begin by educating yourself. Becca says she was a little nervous as this was her first Podcast Interview, but she went through the questions ahead of time, and then she felt up to the task(and did a great job too:).
If you want, you can connect with Becca or Angela on their website, www.writershelpingwriters.net or their membership site, onestopforwriters.com. You can also connect with Becca on Facebook or Twitter.