Podcast: Play in new window | Download
Subscribe: Android | Email | RSS | More
Subscribe: iTunes
I had a fun chat with Frances Caballo in this Podcast Interview. Frances is a social media strategist and manager for writers. She helps authors to get past the barriers that hold them back from flourishing online and selling more of their books.
Frances talked about creating great images for sharing on social media and your author website, which inspired many ideas 🙂 Also, her tips on how to understand your reading audience better by searching your google analytics for your website and on Facebook, were a big help.
You can find Frances by going to her website, socialmediajustforwriters.com and you can connect with her on Twitter, and Facebook.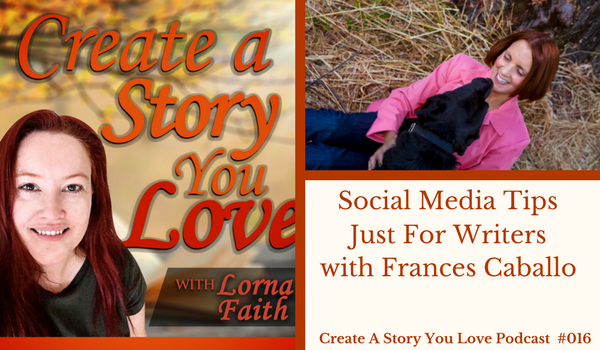 Heres's some resources I share in the update:
1.Books I've found super helpful by Frances Caballo are: Avoid Social Media Time Suck; Social Media Just for Writers; Blogging Just for Writers; and her newest book available for pre-order, The Author's Guide to Goodreads: How to Engage with Readers and Market Your Books.
2.I discovered an amazing new book for writers by James Scott Bell… 😉 Just Write: Creating Unforgettable Fiction and a Rewarding Writing Life. Some aha moments from reading this book were, his tips on how to set up your writing project so it's not so overwhelming and his 10 ways to inspire your muse.
Also, I would love to hear about the book you're writing now, or one that you've just finished. If you Tweet me a one sentence summary of your story along with your name and website on Twitter (connect with me @lornafaith), I'd love to mention you, your story(your work in progress or published book) and your website in the updates of the next Podcast.
Summary of Interview
*Frances starts by sh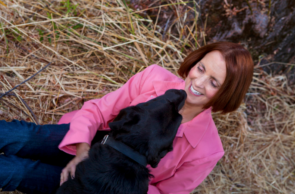 aring her inspiration to move into the writing and social media realm. She worked as a reporter before she moved into the field of public relations. When social media emerged it seemed like a natural next step.
In her book, Frances encourages writers to tweak these 4 steps to attract your readers and grow your audience:
1.Focus on Social Media networks where your readers are. Frances encourages writers to don't feel like they need to be on every social media network, because it's a huge waste of time when you really want to spend the majority of your time writing.
2.Study where people are on social media. Find out if your demographic is on Facebook (usually 45 plus) or if your audience is mostly women – women dominate Facebook and Pinterest…. which is also a great place for romance authors. LinkedIn is for professionals – so if you have a nonfiction book, that's a great place for you to be. SnapChat, Instagram and Tumblr are great places to be if you're writing a YA novel.
3.Have good content. People wanted to be entertained and/or given great information. 80% should be about you curating other people's content and sharing it, and 20% is your stuff.
4. Check your analytics on google. If you haven't signed up for your website to have google analytics, that would be super helpful. Here's a blogpost & video and shows you how to set that up. Find out what gender the people are who visit your blog. Also check Facebook analytics to find out what ages and gender people are who visit your page. Ideally you want your analytics on your Facebook page and your author website to match. For example, if you are reaching ages 45 to 60 on Facebook then you should be reaching the same age group on your website. If it's not the same, you might need to recalibrate and rethink of your marketing messages and what you're sharing in your website and on social media.
* Frances also encourages authors to survey their readers to ask them want they want you to talk about and share on social media or on your blog. This is important for fiction and nonfiction authors. Try the free version of SurveyMonkey to get started.
*Here are 38 blogging topics for writers that might give you ideas if you're unsure what to write about.
Free Images for blogging or social media: unsplash.com; pixabay.com; pexels.com; wikimedia.com; morguefile.com; deathtostockphoto.com. Use the Free version of canva.com, to resize your pictures and to add text.
To Compress your Images so they load faster on mobile devices go to this link.
 On being Authentic: Self-Reflect before you Self-Reveal
*Ask yourself, how comfortable am I sharing this information about myself? See how your readers respond to photos you share.
*Frances talks about the importance of being genuine and authentic on social media. Care about your readers by replying to questions/ educating and entertaining them. Treat your readers how you would treat them if you asked them out for coffee.
Your brand as an author rests on your ability to be authentic. As humans it's innate for us to be drawn to people who are the most authentic in our lives.
*If you've chosen to use a pen name as an author, you can still be authentic to your author brand and your niche. Frances gives the example of writer and editor C.S. Lakin who writes under the pen name Charlene Whitman as a Western romance author.
*For new writers, Frances recommends starting with one social media network, to avoid overwhelm. Then after 6 months start a new social media account.
As you're comfortable, begin being a guest blogger for your friends websites and then at some point, you'll begin blogging for high traffic websites.
On the question of blogging for authors…
*Frances begins by saying there's many different opinions on this. She refers to the book The Martian, by Andy Weir and how he began by blogging that book on his website. Then scientists found his chapters and gave him tips on some facts he had wrong, and then it was through the many views he had on his blog that his book got noticed by a publisher.
If you decide to blog, consider blogging once a week to keep readers updated on what you're doing and that they hear from you regularly.
*Some ideas to get your blog noticed: use keywords. Keywords are the words that a reader would type in "google search" to find a subject they are looking for. So start using keywords in your blog and in your guest posts.
You can grab your free copy of Twitter Just for Writers on France Caballo's website, socialmediajustforwriters.com. She also helps people who just need help getting started on social media and offers training sessions on her website.
What is the area you struggle with most as a writer on social media? I'd love to hear your thoughts in the comments.