Podcast: Play in new window | Download
Subscribe: Android | Email | RSS | More
Subscribe: iTunes
I had fun interviewing story coach Jennifer Blanchard for this podcast. She is a professional novelist and story coach who turns struggling novelists into serious, emerging authors of amazing books that keep readers hooked from page one.
I learned a ton about story structure and having a success mindset from Jennifer, I hope you find the tips you need to write awesome books in this interview too 😉  You can find more about Jennifer on her website jenniferblanchard.net or connect with her on Twitter, Facebook or Instagram.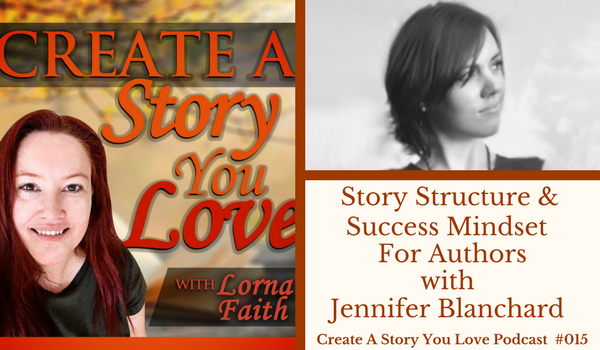 Here's some resources I share in the update:
1.Jennifer mentions her 6 week find your story book. She encourages writers who want to learn more details about story to grab the FREE book at jenniferblanchard.net/findyourstory, or you can grab the Kindle version for 99 cents on Amazon here. You can also join her Facebook Group for Free here: Emerging Novelists Incubator.
2. Story Engineering  and  Story Structure – Demystified, by Larry Brooks have been really helped me break down my story… answering the questions: what do I write next?  And where do I put it?
3. GMC: Goal, Motivation, and Conflict by Debra Dixon is a book every fiction writer should have in as one of their tools of the trade. This book helps fiction writers shape their stories and also lends urgency to their stories to keep readers turning the pages.
I hope these books will help you as much as they've helped me 😉
Summary of Interview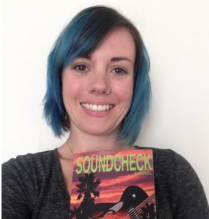 There are many helpful tips for struggling novelists on how write a story that is compelling in this interview.
*She shares how a few years ago, she first heard Larry Brooks talk about story structure and that's when she had a light bulb moment, and really understood story structure for the first time. She decided from then on she would spread story structure as far as she could to as many writers as needed to hear it. In 2010 she put her first ebook out and began coaching writers.
Her first novel is a contemporary romance titled, SoundCheck.
Jennifer has just finished her second fiction book.
Jennifer shares her tips for writers who are just starting to write stories.
If you're lacking ideas:
1) keep a journal. Journalling is a powerful tool for writers. Write down all the things you've been through and are doing right now. Writing down how you think about things is a good place to start.
2) Pay attention to what's going on around you. Listen to other people's life stories; listen for ideas seeds in little blips of things that are going on in the world around you.
*Once you have your story idea, let it marinate for awhile. Instead of madly writing a 50,000 word draft – think about it – get inspired by the truths you want to tell people. We tell lies in fiction to show a truth of some kind. This is the beginning point – then there's story development that needs to happen.
For each story you write, start by developing a concept and a premise.
Concept: what is conceptual about your story? Is it a love story set on the Titanic? Add something more than just a man and woman meeting and falling in love. Add something that makes it interesting.  Concept is your story setting or landscape.                              
Premise: is your plot. What's happening in your story? Instead of just writing about the character's life(which is an episodic narrative), write about what the protagonist wants. Short definition of story is: a protagonist that wants something, an antagonist that opposes what the protagonist wants and a journey that ensues because of it.
*Great questions to ask yourself as you develop your story: What is my core story? Who is my protagonist? What does my protagonist want? What opposition will they face trying to get to their goals?
*Questions for your protagonist: 1. What is their inner demon? What will they struggle with externally and internally? Sometimes we only have the internal battle going on and we don't realize that there has to be an external battle happening at the same time.  2. What's their goal in the story? It needs to be compelling for readers to be drawn to it. They have to have a goal of some kind. It will make them three dimensional… without that it falls flat.
*Questions for your antagonist: 1. What's the opposing goal? What does the antagonist want that opposes the antagonist. In real life there doesn't have to be a reason or motivation – but in a fiction story there has to be a reason behind why they do something.
*It's important that your main character has grown from the beginning to the end of the story. In order for the hero to change and win, they need to change and to overcome their inner demon. During the course of the story they learn and experience things they need so they can defeat the bad guy.
Example: Happy Gilmore movie. In the beginning he wants to be a hockey player. But the First Plot Point is that his grandmother's house is being repossessed and his goal now is to raise $250,000 by playing golf in order to save the house that his grandfather built. His hockey goal is put on hold for awhile.
*Jennifer coaches new fiction writers through a six week story planning process which she describes in detail in her book, Find Your Story: The 6-Week Story Planning Process or you can get the book for free at jenniferblanchard.net/findyourstory.
Week One: Idea, Concept, Premise.
Week Two: Creating Characters.
Week Three: Story Structure(Take 1).
Week Four: Story Structure(Take 2).
Week Five: Story Beat Sheet.
Week Six: Story Roadmap.
*Jennifer has a new perspective on how to create a success mindset as a writer. Instead of thinking that you're always trying to move toward something, instead see yourself as if you already are at that specific place where you want to be.
For example: if you want to be a bestselling novelist, act like you already are one. Ask yourself what would a bestselling novelist do? Would they skip their writing session that morning, or would they write until they got their word count finished?
Success Habits for Authors…
The following is what Jennifer does everyday to develop a success mindset – to get rid of the negative self doubts and limitations.
1. Journal. Write in 3 journals as soon as you wake up in the morning.
Write Morning Pages. This is 3 handwritten pages which is just writing down what's in  your head. Write in the morning and before you go to bed. You can reprogram yourself by writing in your journal around those times.  It gets rid of all the negative unbelief.
Write your reality Journal. Basically this is where you pretend you already have everything you want. For example if you want to be a bestselling novelist write things like: tonight I'm going to the movie premiere for my novel. What ends up happening – is by writing this over and over again you program yourself to give our dream life.
Write statements about yourself.  Write a half page of I AM; I WILL statements. Write something like: I am strong; I am brave; I am excited for today… etc. After that write gratitude statements. Thank you for my bestselling novel… etc.
2.Write in short bursts using a timer. Jennifer says she times her writing and that has done so much for her productivity. Start with 10 or 15 minutes of writing bursts.
3.Follow a Checklist. Write down the actions that you need to do for that day. Do this for every single day. Each item on there should be timed. For example: write a blogpost = 1 hour.  A timer is very useful in improving your productivity.
"Writers tend to have a limited belief and negative thoughts about themselves. Much of these are from Societal things we're told: you can't make money as a writer; being a novelist is not a career choice, etc. You can create your own reality and you can do it based on the things you believe, the thoughts you think and the actions that you take. If you want something, go for it." Jennifer Blanchard
Whenever you can, work on your mindset. Being positive and believing you can(fill in blank here) is 90% of success in anything.
To learn more about what Jennifer is up to, you can find her on her website where she has a ton of blog posts, videos and you can get access to her membership site here.  Right now you can get story tips from Jennifer on Instagram where she does 15 seconds of story videos and connect with her when you join the Facebook Group: Emerging Novelists Incubator.
What tips did you find most helpful in this interview? I'd love to hear your thoughts in the comments.