Podcast: Play in new window | Download
Subscribe: Android | Email | RSS | More
Subscribe: iTunes
On this week's podcast I had a great chat with Ray Edwards. Ray is a communications strategist, a copywriter, a speaker over at www.rayedwards.com. He hosts one of the top iTunes business podcasts. His clients include Michael Hyatt, Tony Robbins, Jeff Walker and many other bestselling authors and successful entrepreneurs.
To sell your products and services online, you must be able to write persuasive web copy. Ray is one of the highest-paid advertising copywriters, provides a step-by-step, fill-in-the-blanks system for writing persuasive copy for websites, sales and promotions. Ray's sales copy is amazingly effective – having sold an estimated $200 million in products and services over the last 5 years. He shows you how, step-by-step, you can use the same methods he does in his new book How to Write Copy That Sells .
Ray also has a online course – Copywriting Academy – which includes a step-by-step blueprint on how to write emails, blog posts or anything else that sells your books or products. Right now – for a limited time – Ray has a new short but powerful ebook he's offering for FREE called, The ONE WORD That Doubles Your Sales.   Connect with Ray on Twitter.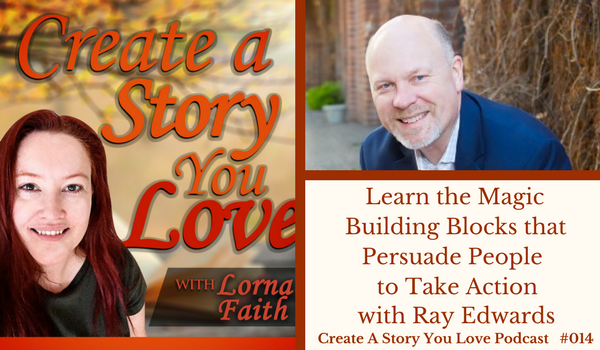 Resources I've found helpful lately…
1.Writing Active Hooks Book 1: Action, Emotion, Surprise and More by Mary Buckham. This is a great reference on how to write riveting sentences that draws readers into your story.
2.Anything You Want: 40 Lessons for a New Kind of Entrepreneur by Derek Sivers. In this book, Derek tells his story of how he started, grew and eventually sold CD Baby for $22 million. My biggest takeaway from this books: "If you find even the smallest way to make people smile, they'll remember you more for that smile than for all your other fancy business-model stuff." Derek Sivers.
Summary of the Interview…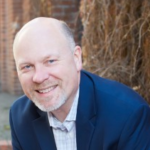 *Ray explains that copywriting is writing words that persuade people to do something, buy something or believe something. Copywriting is persuasion in print. Nowadays its print on our digital device, on websites and even on our watches.
*Everything on your website – your about page, your blog posts, your podcasts, your emails – is ALL copy. Every word you write should be from a perspective of strategy. Strategy is the overarching approach you take to achieving an objective. Strategy is that you want to write to influence. If you're an author who writes stories – then your strategy is – you want everything else you write to draw people in to buying your books and reading your stories.
*When you think about your About page on your website, Ray says to ask yourself what if this is the only words of mine that people will ever read?  Will it lead them to read the next thing or will they click away in 5 seconds, only to be gone forever?
*A great goal for writers, is to have everything they write to be for strategic influence. So if you have a specific goal in mind for selling a certain book or online course, etc.,
"When you're marketing your business or books, everything you do ought to point back to everything else you do." Ken Davis
*The Magic Building Blocks: Sales Letter is your conversation written out – thinking about all the questions your potential client will ask.
6 Building Blocks to Build any short(even 1 paragraph) or long Persuasive Message. Ray calls it the P.A.S.T.O.R. framework:
Original meaning of Pastor was Shepherd – someone who takes care of and protects his flock. Think of that imagery as you're writing persuasive copy. You are shepherding people to truly get to a place where they pick the right answer for themselves, whether it's yes or no.
When you have that approach – and come from that place in your thinking – you never come off as pushy or sleazy.
Ray uses the Acronym P.A.S.T.O.R.
P. = Person, Problem and Pain: Start by identifying the person you're writing the message to. The problem you're helping them solve and the pain that, their problem causes. If you're a fiction writer, what problem are you helping them solve? You might think there's no problem for fiction. But, for fiction writers, the problem you are solving for readers, could be that they want to escape from their day-to-day life, to be inspired or to learn. You are solving a problem in fiction: need to be entertained;  need to escape; boredom with your own life; or for readers who suffer from a malady or illness and can't go anywhere to be entertained so they read books.
A. = Amplify the consequences of NOT solving the problem: How many times have you heard someone say: if you read one thriller this year, make sure it's this one. They are amplifying the fear of missing out.  Aspirations: if you long for or enjoy living an adventurous life through books.
S. = Story, Struggle, Solution and System: If you've written a story, you're selling the first part of a story. ie. all movie trailer start with: in a world where no one understands…  A movie trailer is a great microcosm of how we sell story to an audience. We make them curious. We have to know what happens next to keep readers/listeners interested. Solution and System: this speaks more to someone who is selling a product or service – like an editor; or design covers or a publisher – you are selling a service and a product to people.
You might sell the story of your struggle. If you have edited a ton of books and you figured out a system to make good books better, then you might come up with a book called… e.g. Story Grid.com by Shawn Coyne.
T. = Transformation and Testimony: Talk about how life will change if you read this book, buy this product or engage your services. How you'll be able to save time, money and achieve their goals. Testimony is where others tell the story of how the product or service was helpful to them. Human nature is that we look to these testimonies of people we know, like and trust to give us a recommendation.
O. = Offer: The offer is where you let people know: this what I have to sell you. Buy this book and go on this adventure with these characters; or buy this book and learn how to edit your book.  The mistake people make is they think they are selling "the thing." e.g. The Story Grid by Shawn Coyne – he  knows he's not selling a book – no one woke up this morning to say I want a couple hundred page book on editing. Rather writers of fiction are wanting a book that will transform their story that editors and publishers and readers will be drooling over to get their hands on. It's all in my book; or my online course, etc. People buy the journey – the destination.
R. = Response: This is the part people mess up most often.  They don't ask for a response – the sale. So what you should do now, is buy this book; or hire me. If you don't ask, the answer is always no.
Take that formula above, and you can write a blog post, write a sales letter and it will be super persuasive.
*Watching Movie Trailers can help you learn how to sell the story.
Ray came up with the term Dominant Story Idea(DSI) that he found in Movie Trailers.
The best and the most successful Movie Trailers do 3 things: 1) First give you what the story is about (DSI) e.g. Batman and Superman will fight 2) Offer a sample of the feelings you'll get when you watch the movie itself.  3) Provide you with proof that the movie works. e.g. The Firm starring Tom Cruise. 1) A young lawyer passes the bar, gets his dream job and a fancy job and it seems too good to be true… it is – he's working for the mob. 2) Mitch McDeere is innocent – he wants status – he's getting money and power – then he gets into scary trouble. Every story has these same elements. 3) Prove this movie works: compelling scenes and in the background we hear ominous music and know bad things are about happen. We get the feeling that we have to know what happens.
You can do the same thing with your story idea. 1) Showcase your dominant story idea.  2) Give sample feelings – in your copy show samples or tell stories about your product or direct their imagination to show them in the end state that your product provides. ie. James Patterson – you'll get certain feelings from reading his books.  3) Prove that your story works. Samples, screenshots, celebrity endorsements, etc. Need to have an online presence so that readers get to know you.
If you're an indie author you are your chief marketer for your books.
*Ray says that you need to learn how to speak to your specific audience, but this type of formula for copywriting will work for any business. The basics structures of psychology are the same. Most people are drawn toward pleasure and are repelled from pain. Most people are more willing to listen to a story than to facts and data.
Every communication we have is an attempt to persuade people in some way. In some way we are persuading people everyday. The question is whether we are doing it consciously or unconsciously. That they can or should do something. Even when we are talking to our teenager that they can make the varsity squad, or when you are dating someone – you are selling yourself to them.
The truth is you need to learn how to persuade people to take the action you want them to take. The way to do that is to learn the art and craft of writing copy. Learn how to invite people into the story of your product. e.g. All Marketers Tell Stories by Seth Godin. Tell them the story in such a way that people see themselves in the story as the hero winning the day. If we can do that, they will buy.
The biggest mistake people make when they are writing copy, is not writing from the viewpoint of the reader. When you're writing copy, imagine how old they are; what does their house look like; where do they work; what do they do for fun; is their house quiet or noisy; Then ask yourself what kind of state of mind will they be in when they read your email.  It's similar to when you're talking to someone who seems to be reading your mind.
Learn to Write from your reader's perspective. And remember that the READER is the hero of the story. 
It's really about learning the art of listening.
The big key is to learn to understand your audience better. 
To find out more about Ray Edwards and what he's got going on go to his website www.rayedwards.com. Also click this link if you want the free training and ebooks he has available right now.
What was your biggest aha moment from Ray's tips on copywriting? I'd love to hear your thoughts in the comments.