Podcast: Play in new window | Download
Subscribe: Android | Email | RSS | More
I learned a lot in this interview with bestselling thriller author Nick Thacker. Originally from Texas, Nick now lives in the mountains of Colorado with his wife, daughter, a tortoise and 3 dogs:) He's a prolific writer of many bestselling thriller novels, which you can find at his author website nickthacker.com.  Nick also helps authors write, publish and market their books at his website writehacked.com. You can connect with Nick on Facebook or Twitter or email him at nick(at)nickthacker(dot)com.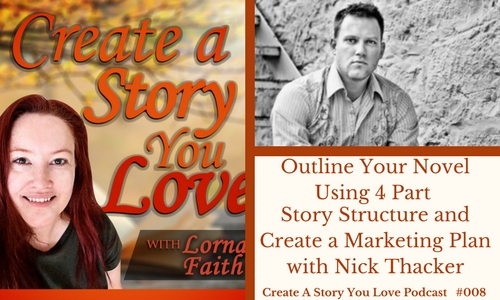 Sorry, I wasn't able to record this interview via Video. For some reason my Skype/eCamm connection wasn't working properly the day we recorded this – so it was actually Nick who recorded the audio for me…. for which I'm very grateful 🙂
Summary of Interview
*Nick shares how he got started writing. He says he really doesn't like sitting down and trying to get words up on the screen every day – rather he likes to have written. He didn't start writing until 2010-2011. He remembers he loved reading thrillers, like Dan Brown books, etc., but he also found some thrillers he didn't like. Nick says he's happiest when he's writing books that entertain.
He thought if other people can write, I can too. That was his first book The Golden Crystal (Techno Thriller Military Science Fiction Best Sellers): A Technotriller Novel.
 Nick wrote this first book for his Dad and gave it to him on Christmas.
*With his first book he got stuck in the 'muddy middle' and started reading books on writing for about 3 months. A book that really helped him to understand how to write better scenes and how to write your sentence structure in a linear way was by reading Dwight Swain's book Techniques of the Selling Writer
.
*Nick says he's read this writing book over and over again and talks about what he learned of how to gives awesome detail of the scene. First you have a goal, then a conflict and then a disaster. Example: Goal is the character wants to call her friend. Conflict is she's trying to call her friend but she keeps getting another incoming call so she can't call her friend. Disaster is her phone dies.
*The Sequel is the opposite of that: Reaction is "Oh my gosh, my phone died, I better plug it in. The Dilemma is she can't find her charger. The Decision is I'm going to buy a charger from the store.
*Nick says then he used Dwight Swain's writing book to rewrite the beginning and middle of his first novel and he still references it to this day.
*He says he was writing a blog about marketing and then he shifted his blog about writing and marketing books. Later Nick started his podcast, Self Publishing Answers which he now does with two other writers, Kevin Tumlinson, and Justin Sloan.
*Everyone writes and outlines differently and Nick recommends to keep trying different ideas to find what works for you. He starts by describing his book in two sentences – this also works well as a blurb for your book. Nick wrote a more detailed blogpost about it here.
*Nick says he loves Larry Brooks website StoryFix.com. He helps writers learn how to write and how not to write. Nick says he writes to the 4 part story structure and it helps him not to worry about what happens next when he's in the middle of writing. Larry Brooks has a series on story structure here.
*To outline his story, Nick uses Evernote and then he writes his story using Scrivener . He says sometimes he'll use the Evernote app on his smartphone and then it syncs to his computer. If he needs to, Nick adds folders on the left-hand side of the Scrivener screen, and creates Act 1, Act 2, Act 3, and Act 4. In this interview, I mention how much Joseph Michael's Learn Scrivener Fast  training course has helped me. I often go back and listen to those short videos for whatever I need help within Scrivener.
*On his blog, Nick writes a great blogpost on how to market your book here.  His biggest recommendation is to get started with an email list. He also says Facebook Ads have really worked well for him. He says it's amazing(and slightly creepy)…  how well you can track your customers on Facebook.
*Nick's novel Atlantis: The Origin Mystery: The Atlantis Deception (Kindle Worlds Novella)
 is part of the Kindle Worlds series with Amazon. He says Amazon called him one morning and said A.G. Riddle is launching a kindle worlds, world with his books. He said A.G. Riddle had mentioned his name and asked Amazon to ask Nick to see if he'd want to write a book in the series. And they offered 50% commission for Nick to write it. So he wrote it – they said it needed to be done in a month – and he was surprised that it was one of the best novels he's written.
*Nick says his friend Kevin describes this book as Jurassic Park in space. The main characters get locked into the center of their ship and all the creatures are trying to kill them. He said he just wanted people to be entertained – for readers he created a feeling of wonder with new ideas.
*I asked Nick how he overcomes resistance and failures. He says he has experienced plenty of failures, and what he's found is that it's important to know what brings you to a 'downward spiral.' Nick talks honestly of how he has something that happens at work, which later stops him from writing every day. So he's found that he needs to put, what's bothering him, in a box and close it temporarily and then open the writing box when it's time to write. He mentions that his friend Keven Tumlinson writes in a journal every day and says affirmations – which seems to help get him be more of a prolific writer.
*Nick recommends that authors who are serious about writing as a career, to think of it as a business. He keeps his production plan written down in a document in Evernote where he writes his long-term plan. He writes down the books he wants to write by a certain date and he also writes down when he wants to get an agent, etc. When you have a business plan written down, it helps you to be more productive.
*I asked Nick what his thoughts were for the future of Indie Authors. He gives the example of how Amazon could – in the future – figure out how fast you read and when you read and by doing that recommend books specifically for your travels or whatever you ar
New books Nick's writing now is the Harvey Bennet series. The Enigma Strain (Techno Thriller Science Fiction Best Sellers): Military Science Fiction Technothriller (Harvey Bennett Thrillers Book 1)
 which has over 400 reviews on Amazon, is about the world's largest active volcano is under Yellowstone National Park and is based on the question of what happens if someone decides to blow up a bomb under the park?  The next book in the series has the same good guys and bad guys – and Nick says he's playing with the idea of video recording people's dreams and memories. The setting is in the Amazon rainforest. He's also working on finishing the Relics series – the first book is Relics: The Dawn: Relics Singularity Series Book 1
. Nick's also working on co-writing the series – The Lucid: Episode One: Post-Apocalyptic
 with Kevin Tumlinson and then co-writing another young adult fantasy book with his friends Kevin and Justin.
To connect with Nick, you can find him at NickThacker.com and you'll get four books for Free when you sign up to the mailing list. Also check out writehacked.com where you can find the self-publishing book marketing plan. You can also connect with Nick on Facebook or Twitter.
Do you use 4 Part Story Structure to outline your novels? Please comment below, I'd love to hear your thoughts.