Podcast: Play in new window | Download
Subscribe: Android | Email | RSS | More
Subscribe: iTunes
I had the honour of interviewing author, blogger and coach, Lise Cartwright. After countless years in the corporate grind, Lise decided to quit her job and start her freelance writing business. Three years after that, she decided to become a full-time author.
Lise has written over 16 books – many translated into other languages – and has many bestselling books to her name. So far she has written nonfiction books, but starting in 2016 she will be collaborating with author Steve Windsor, on her first fiction novel. You can connect with Lise at her website lisecartwright.com or at the website she co-authors with her writing partner Steve Windsor at authorbasics.com. You can also chat with her on Facebook, Twitter or Pinterest.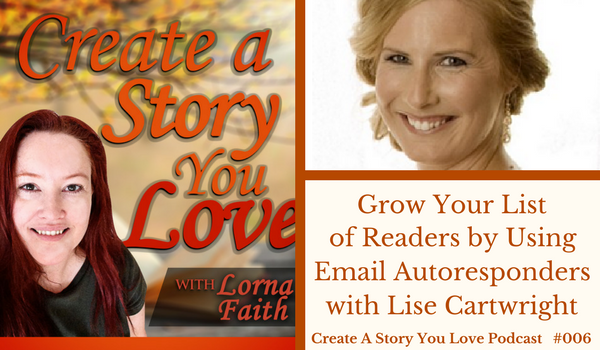 Summary of the Interview
*Lise starts off by telling her story of working in the corporate grind and being unhappy with her job. She wanted to have the freedom to do what she wanted, when she wanted to do it. So she started looking for options and came across locationrebel.com. There she learned blueprints of business ideas and when she came across the idea of being an SEO writer, she decided to try that. Within 10 months she was able to quit her job. She discovered she was passionate about writing and learned from Steve Scott and from Chandler Bolt's Self Publishing School, how to write, self-publish and market her books. It was through them that she became addicted to writing books.
*Her first book was No Gym Needed – Quick & Simple Workouts for Gals on the Go: Get a Toned Body in 30 Minutes or Less
. That book was so popular that Lise created the No Gym Needed 30 Day Challenge.
*After that first book, she had so many ideas that she quickly transitioned from being a full time freelance writer working for others to being a full time writer, working for herself. Now, it has been a little over 12 months that Lise has been a full time author.
*Lise gives tips on how writers can get their books written quickly. Steps to take: 1)start with an idea – Pat Flynn encourages people to write down everything you're interested in. 2)Create a Mind Map. Lise says she writes with pen and paper and this unlocks the book fully for her. 3)She groups the ideas together and comes out with a great outline for her book. 4)She free writes each chapter. The outline helps her to know ahead of time what each chapter will be about and it helps her to write faster.
*When Lise wrote 7 books in 7 weeks at the start of 2015, she was able to write each book in a day because she had a solid outline to start with.
*As far as editing your book, find an editor that understands your writing who doesn't try to change your voice. Lise found her editor for a reasonable rate on Fiverr.com. She asked her editor if she would edit in Scrivener and she agreed. You can find more of her great tips on hiring a professional editor on her post:  10 Truths of Hiring a Professional Editor.
*Lise and her co-author Liz Froment wrote two books on how to create book funnels: Non-Fiction Book Funnels: How to Engage With Your Readers and Sell More Books!
 and Fiction Book Funnels: How to Engage With Your Readers and Sell More Books!
 In these books they talk about the step by step process of how to come up with your email autoresponders and what to say.
*Lise encourages authors to build their email lists from the get go, because this is what will ensure your long term success. To become a full-time author – to make money at it – you have to be in it for the long game. It's important to build a platform and connection with readers if you want to continue writing books and making money. When you have multiple books, you need multiple lists for readers. It's great to have a way to keep in touch with your readers. Fiction and nonfiction is very similar in that regard. Amazon won't give your email address to your reader, so there needs to be a way for you to get someone onto your email list.
*It's helpful if you have a permafree(permanently free) book that is constantly driving people to your email list, or have another book as incentive for people to sign up to your email list. The more emails you have, the easier it is to launch a book.
*Send the emails out to your list. If you've been connecting with your list, they are going to be the readers most likely to buy. Connect with people on your email list on a regular basis.
*Start with a 7 day autoresponder series to let readers know who you are. Continue telling your own stories and building that relationship. If you're writing fiction, you can be more creative. For example, Mark Dawson sent a freebie out to his list about a FBI report on his main character. Or you could give away a detailed map. Think outside the box and about what the reader would want. You can ask them what they would like for free with a survey.
*Lise talks about co-authoring a book with another nonfiction author and collaborating with Steve Windsor on the fiction novel they're writing together. Some tips for working together: 1)It's best if you have a good friendship going into it, because everyone has idiosyncrasies. Need to be able to be quite honest with each other and not take offense. 2) Be accountable. Lise says she likes to use slack to chat. 3)Most likely you're collaborating because you have similar ideas. Do a google hangout and by talking together, and be open and honest about what you want to do. By doing that, you'll be able to quickly discover if you can work together well.
*Lise and Steve Windsor are working on their first YA fiction novel with the working title, Dixxon. They are using  Scrivener  to write their novel and using 4 part story structure.
*Right now Lise is in the process of turning her nonfiction books into courses. Since many readers of her nonfiction book No Gym Needed – Quick & Simple Workouts for Gals on the Go: Get a Toned Body in 30 Minutes or Less
, have asked for a course, she has created the No Gym Needed 30 Day Challenge. 
You can find more about Lise and her books at lisecartwright.com and connect with her on Facebook, Twitter or Pinterest.
*Photo Credit by Lise Cartwright
*Some of the above links are affiliate links and help to support this blog